Welcome to the
NHHS School Counseling Department web page!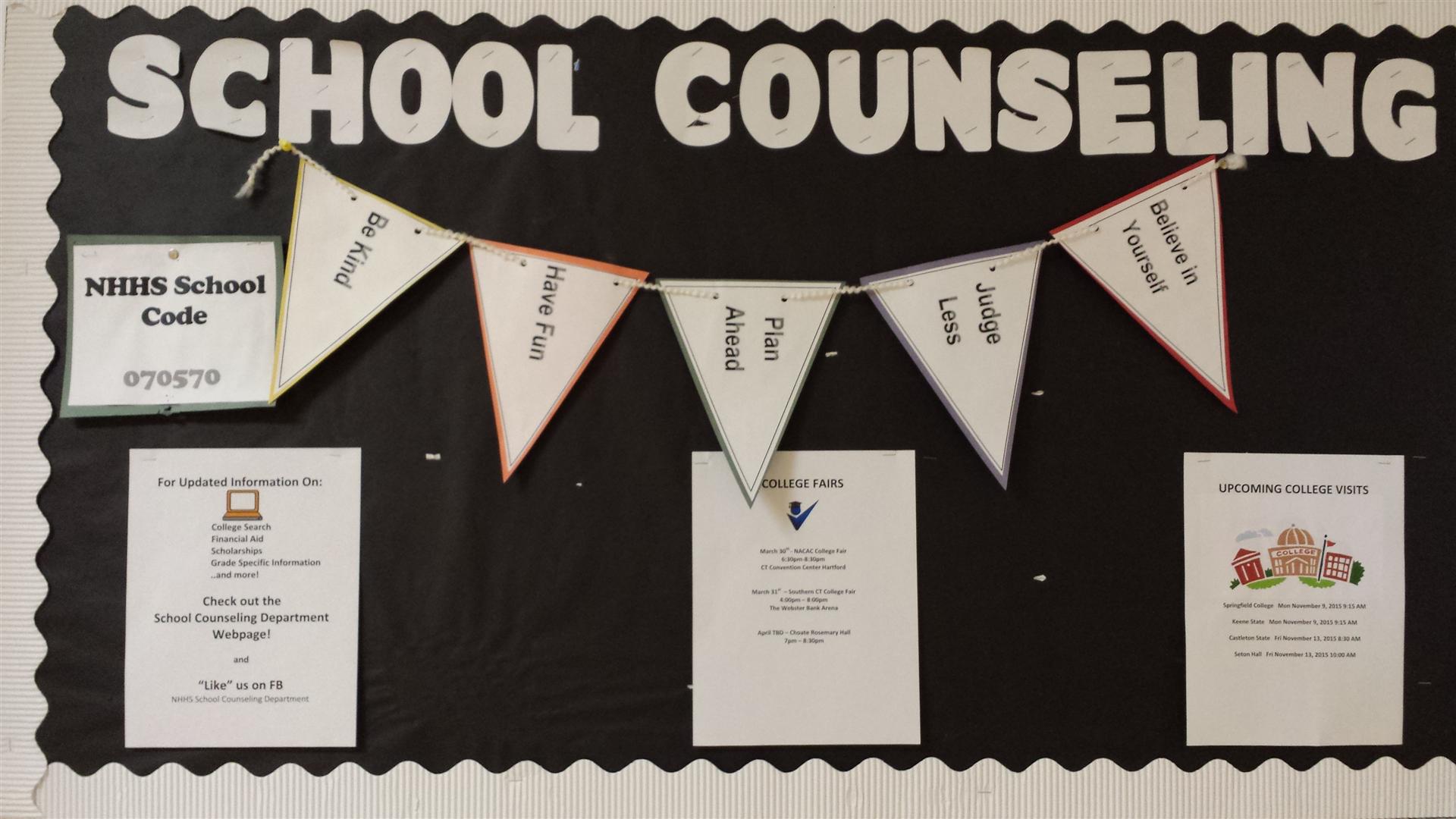 The goal of the School Counseling Program at North Haven High School is to assist all students toward success academically, personally/socially, and vocationally.
The School Counseling Department is located within the Student Services Office. It is located on the first floor of the building and serves as a primary source of information throughout high school.
---
Follow Us on Twitter!
@NHHS_Counseling
---
Program Announcements
April
Join us April 5th @ 6:30pm for our Sophomore Parent Seminar on the Basics of a College Search
March
Join us March 8th @ 6:30pm for our
Junior College Planning Seminar!
A local college admissions director will give us the inside scoop on college search and admissions!
View the Junior College Planning Seminar Presentation Here
February
Counselors will begin a second Individual Planning Session with Sophomores.

Counselors will begin meeting with parents of Juniors for post-secondary planning.

Course selection will take place February 7th-16th

Advanced Placement exam registration takes place February 6th-10th in Student Services
Upcoming Evening Seminars
Course Information Night
February 8 @ 6pm in the NHHS Gym
Click here for the High School Course Selection Presentation
for 8th Grade students.
Junior College Planning Seminar
March 8th @ 6:30pm
Sophomore Parent Seminar:
Basics of the College Search
April 5th @ 6:30pm - NHHS Theater
College Fairs
www.collegefairsonline.com
April 5th – Southern CT College Fair
4:00pm – 8:00pm
The Webster Bank Arena
April 6th – NACAC College Fair
6:30pm – 8:30pm
CT Convention Center Hartford
April 17th – Choate Rosemary Hall
7:00pm – 8:30pm
Worthington Johnson Athletic Center
---
School Counseling Resources
Schedule of Student Meetings & Individual Planning Sessions
GENERAL INFORMATION
Calendar of Individual Student Meetings
Course Selection Presentation to 8th Grade Students
Resource/Lists "to do" for each grade click here
School Counseling and Your Child
School Counseling Guide for Families
Course Selection Presentation to 8th Grade Students
FOR FRESHMEN
Freshman Counselor Meeting Packet
FOR SOPHOMORES (in progress)
Click here to find topics related to sophomore year!
FOR JUNIORS
Junior Post-Secondary Planning Guide
FOR SENIORS
Senior Post-Secondary Planning Guide
Senior Post-Secondary Options Guide
Financial Aid Brochure from CT Office of Higher Education
Student Success Plan
Grade 9:

· Goal-Setting

· Course Plan for Graduation

· Complete "Career Interest Profiler"

· Meet with School Counselor

Grade 11:

· Goal-Setting & Review

· Course Plan for Graduation

· College/Career Exploration

· Meet with School Counselor

Grade 10:

· Goal-Setting & Review

· Course Plan for Graduation

· Complete "Do What You Are"

· Meet with School Counselor

Grade 12:

· Goal-Setting & Review

· Course Plan for Graduation

· Develop Resume

· Post-Secondary Planning with School Counselor

· Senior Graduation Survey
---
Additional Educational Opportunities
Public Schools of Choice
In accordance to State of Connecticut law (Connecticut Education Law 2001-Sec. 10-220d), each local and regional board of education shall provide access to technical high schools, regional agricultural centers, interdistrict magnet schools, and charter schools. Below you will find links to various schools of choice and information about the various applications.
New Haven Public Schools of Choice
---
New Student Enrollment &
Alumni Transcript Requests
New Students: Are you new to North Haven High School and need to enroll as a student?
Click here to read what is required for registration. Registrations are held by appointment
and are coordinated by the School Counseling Department.
Alumni Transcript Requests: Please complete the TRANSCRIPT RELEASE FORM including your
graduation year and fax to the School Counseling Department attention Mrs. Gambardella
(Fax 203-234-8316)
---
PowerSchool District Code: TDWM
Use this code to activate the Parent Portal App on your Smart Phone.
---
SCHOOL COUNSELORS & STUDENT ASSIGNMENTS
Anthony Mastriano, School Counselor, A-Cou
Rebecca Carr, Director of School Counseling, Coy-Cu
Douglas Frasier, School Counselor, D-Hot

Melissa Chiarelli, School Counselor, Hoy-Mi
Michael Mirabello, School Counselor, Mi-Ry
Laurie Magoveny, School Counselor, S-Z
Melissa Bimonte-Ferrull, Student Services Secretary
Daria Gambardella, Student Services Secretary
Lisa Egan, School Counseling Intern
---
Our program consists of four components: Individual Planning, Responsive Services, Programs/Curriculum, and Collaboration. We understand that the developmental process is unique for each student.
North Haven High School provides a comprehensive school counseling program with services to all students in grades 6 through 12. School counselors support the district's mission to prepare each student to meet high academic standards and to meet the demands of the twenty-first century.
What is a School Counselor? School counselors are professionals with training and skills to support students' potential for healthy growth in the areas of academic, personal/social, and career development.
What do School Counselors do?
Work directly with students and work on students' behalf through collaboration with parents, other school professionals, and community members.

Address students' academic and emotional needs and design approaches to help students chart a course for their lives and careers beyond school.

Provide academic, personal, social, career and college counseling.

Provide counseling interventions designed to support student growth and the achievement of goals.

Provide counseling dealing with self-image and self-esteem, peer relationships, social skills, coping strategies, and conflict resolution.

Provide crisis intervention services.

Assist students and their parents in planning for a transition to the next grade or school and in course selection at the higher grades.

Provide consultation and communication with parents/guardians to support students' academic and social success.

Assist parents/guardians in helping families support students' growth.

Provide advocacy for students.

Provide consultation to school staff.
Counselors accomplish their work with students through:
Direct services to students individually, in groups, and in the classroom setting.

Individual student planning and goal-setting.

Group skill building activities.

Class instruction based on the developmental school counseling curriculum.

Preventative and responsive interventions.

Consultation with parents, school, and community.

The aim of the comprehensive school counseling program is to promote students' academic, social, and emotional growth and to encourage healthy development across the school years. Our counselors are here to help parents with concerns regarding their child's development. Feel free to contact your child's school counselor whenever you have a concern or question about your child or if you'd like more information about the school counseling program.
The Student Success Plan offers all students the opportunity to engage in an enriching high school experience that will lay the foundation for future success. NHHS also facilitates opportunities for growth outside of our walls. There are programs which supplement our core curriculum and offer challenging experiences.
---
---
221 Elm Street North Haven, CT 06473
phone: 203.239.1641 fax: 203.234.8316