What is Mu Alpha Theta?
Mu Alpha Theta is the National High School and Two-Year College Mathematics Honor Society with over 75,000 student members in more than 1,500 schools. We are dedicated to inspiring keen interest in mathematics, developing strong scholarship in the subject ,and promoting the enjoyment of mathematics in high school and two-year college students.
At North Haven High School students are officially invited to Mu Alpha Theta in April of the year they take L3 PreCalculus (after term 3 grades are caculated and we can look at the whole year to date in the course for each student).
The requirements for eligibility are:
1. Having completed a minimum of two years in an advanced level math class with a final grade of B+ or above each year.
2. Being currently enrolled in or having completed Pre-Calculus L3, maintaining an B+ or better.
3. Being enrolled in a L3 or L4 math class for the upcoming year.
4. Agreeing to participate in a minimum of two Mu Alpha Theta approved activities (generally we have a fundraiser in December, Pi Day in March and the Induction in June).
5. Promote mathematics in the North Haven High School through one or more activities - Math Team, Computer Club, or Math Peer Tutoring.
*Additionally students who particpate in the Holiday gram fundraiser and sell a minimum of ten holiday grams will also earn an honor cord for graduation their senior year.
We also have an EARLY INVITE after first semester. This is a preliminary invitation to Mu Alpha Theta that allows prospective members to be involved in Pi Day that year. The early invites are given to students in L3 PreCalculus who have a 90% or higher average for the second semester. They will also get an official invitation in April as long as they satisfy the requirements above. The induction for new members is in June.
Mu Alpha Theta activities
In general in December we have a fundraiser (Holiday Fun Grams), in January - March we prepare for Pi Day, in April we have our induction for new members and in June we have an "end of the year party" where we elect officers for the next school year.
MU ALPHA THETA HOLIDAY GRAMS!
As a member of the math honor society you are asked to sell a minimum of ten holiday grams ($1 each). You get your holiday fun-gram sales packet (which includes THREE little posters to hang up around the school) at a meeting in early December - see me if you don't receive this packet. Please be sure to get BOTH block 2 locations for each person when they fill out the fun-gram. If they do not fill it in, you will have to get that info from the main office - the secretaries will show you where to find it. If you need more grams - please see Ms. Hardy ASAP.
I encourage members to organize lunch wave sales too - I have a cash box you can use. A few of you can sit informally in front of the café (make a banner to go across the table) - bring the cash box back to Ms. Hardy at the end of the waves - you'll get a pass to your next class.
The sale runs the month of December (up until a few days before break, double check with Ms. Hardy in room 304 or Mrs. Johnson in the math office for exact dates each year)
REMEMBER every Mu Alpha Thetan is expected to sell a minimum of ten candy cane grams. If you need more, please see Ms. Hardy in room 304.
Proceeds from this fundraiser go towards our "calculator scholarship" (every year a calculator is donated to a worthy new student - usually freshman - who shows promise in mathematics), to defray costs of Pi Day and the purchase of the honor cords worn at graduation by active members of Mu Alpha Theta.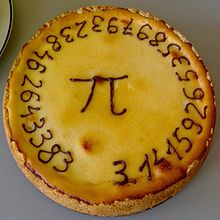 PI DAY!
What is pi?
pi is a greek symbol to represent the ratio of the circumference to the diameter of any circle

pi is an irrational and transcendental number (so it cannot be expressed as a simpler fraction or nth root and it never ends), to start: p » 3.141592653589793238462...
Planned Events:
Pi digit memorization contest
competition held in auditorium

students will recite digits of pi they have memorized (our record is 314 digits, can you beat that?)

students must pre-register (list of participants will go out to faculty)
Pi(e) baking contest
Judging held in the math department

Contest open to all students & staff of NHHS

Entrants must pre-register and deliver pies to the designated room before the starts of the school day. All entries must be accompanied by an index card with the recipe and an entry form.
Pi Table (in cafeteria)
Special pi table will be set up in the cafeteria during all lunch waves

Pi trivia contest questions (with prizes for participants)

Mini-memorization contest - anyone who can recite 10 digits of pi wins a prize

Pi face painting